Semi-Permanent Eyeliner is created by mapping a natural looking lash line with or without wings in order to enhance the shape of the eyes. A tattoo machine along with microneedles are used to penetrate the pigment in the outermost layer of the eyelid skin (approximately 0.5mm into the skin). It differs from the traditional cosmetic tattoos in a way that the pigment is not deposited as deep and therefore will eventually lighten and fade over time. The quality of the pigments used are exceptional and so the color of your eyeliner will not fade into a bluish or greenish tone.
The thought of having needles so close to your eyes might initially be intimating and this is why it is crucial for you to choose the right treatment specialist to perform this procedure in a safe yet artistic manner. Semi-Permanent Eyeliner is a safe and minimally invasive procedure and most of the clients are suitable to receive it. However, if you have any of the conditions mentioned below, it is necessary to consult with your physician and obtain an approval prior to arranging your appointment:
Diabetes
History of Keloid scarring
On any type of blood thinner
Pregnant/Breastfeeding
Have had any invasive or non-invasive procedures on eyes/eyelids in the last 6 months
Prone to styes
Any eye conditions (Glaucoma, Cysts,etc)
If you have any other medical conditions not listed above and you are unsure of proceeding, please contact us for more information.
Touch up Session – A touch up session is generally not necessary for Semi-Permanent Eyeliner; however, it is very skin type specific. Your treatment specialist will follow up on the healing process 4-6 weeks after the initial treatment.
PRE-CARE
No alcohol consumption 24 hours prior to the procedure.
No coffee consumption 24 hours prior to the procedure.
Avoid sun and tanning one week prior to the procedure.
Do not take Aspirin, Niacin, Vitamin E or Advil/Ibuprofen 24 hours before the procedure.
Please consult your physician before stopping your prescribed blood thinners.
Discontinue Retin-A 4 one week prior to the procedure.
No eyelash extension, curling or tinting.
If you wear contact lenses please bring your lens container with you.
Please Note: You will be more sensitive during your menstrual cycle.
AFTER-CARE
The healing process will take up to 7 days. It is important to follow the instructions provided in order to obtain the best result and avoid complications:
Keep the area dry for 48 hours.
Apply a thin layer of the provided cream or Vaseline 3 times a day on the treated area.
Avoid scratching, peeling, scrubbing, firm rubbing, excessive washing, swimming.
Do not use any makeup products on the eyelids
Starting day 3, clean the eyelid with a clean wet pad few times a day (by dabbing) and apply the provided cream after.
In case of sensitivity and swelling, apply clean ice packs on the eyelids.
Frequently Asked Questions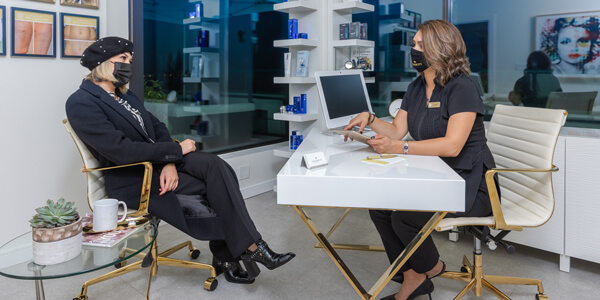 Our Team of highly trained technicians and doctors are available to provide services tailored to your needs.