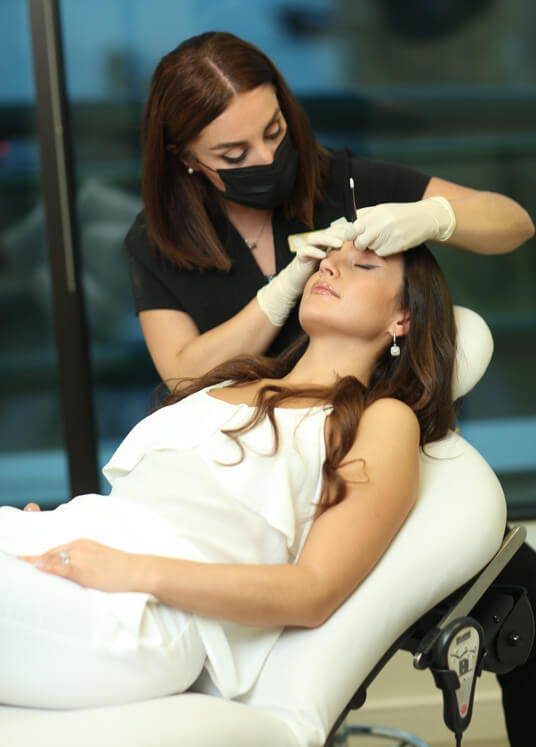 Microblading is semi-permanent make up technique used to accentuate your eyebrows, giving you a natural yet bolder looking facial features and structure. Unlike the traditional tattoo technique, which uses a gun machine and deposits the pigment in the deeper layer of the skin, the Microblading artist utilizes a manual blade to create superficial hair strokes following your eyebrow shape while depositing the pigment simultaneously.
Taking medical and skin conditions into consideration, most clients are able to take advantage of the Microblading technique. If you are concerned about your partial or full eyebrow hair loss and find yourself using various eyebrow products on a regular basis, Microblading may be just the perfect solution for you. The semi-permanent desired eyebrow look will ultimately save you from the hassle of purchasing eyebrow makeup products and the time-consuming attempts to create a symmetrical look.
Touch up Session – A follow-up appointment will be arranged 4-6 weeks after the initial treatment to evaluate the result and to decide if a touch up session will be necessary. Clients usually benefit from a touch up session during which correction will be performed. After this session, annual touch ups have shown to be the best way to maintain crisp solid strokes and to continue to enjoy the semi-permanent brow makeup look.
PRE-CARE
Avoid alcohol or caffeine consumption 24 hours before the procedure.
Avoid the sun and tanning one week prior to the procedure.
Do not take Aspirin, Niacin, Vitamin E or Advil/Ibuprofen 24 hours before procedure.
Please consult your physician before stopping your prescribed blood thinners.
Discontinue Retin-A 4 one week prior to the procedure.
No microdermabrasion or facial chemical peel one week before the procedure.
No Botox around the brow area two weeks prior to the procedure.
Please Note: Your skin might feel more sensitive during your menstrual cycle.
AFTER-CARE
Treated eyebrows will take 7-10 days to heal. During this time, it is important that you take extra care of the eyebrow skin area. It is strongly recommended to follow the aftercare instructions to obtain the best result and to avoid potential complications. Here are the recommendations for you to follow:
Ensure to wash your hands before touching your eyebrows.
Gently cleanse your eyebrows with a damp cotton pad and apply a thin layer of the provided cream or Vaseline. This routine is to be repeated every 3 hours on the first day in order to prevent scabbing.
Apply the provided cream or Vaseline to your eyebrows twice a day from day 2-10. Cleansing is not necessary.
Use the provided cream or Vaseline for post treatment only.
Avoid makeup application on the eyebrows.
Avoid soap or sunscreen on the eyebrows.
Avoid facials and/or exfoliating products.
Avoid picking at the scabs/flaking. Allow to peel off naturally.
Avoid rubbing your eyebrows when drying.
No sun tanning, swimming, long hot showers, bathing or excessing sweating.
Frequently Asked Questions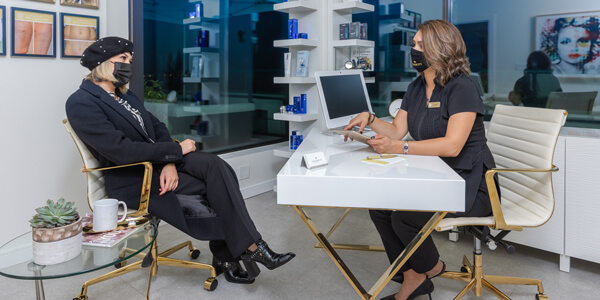 Our Team of highly trained technicians and doctors are available to provide services tailored to your needs.