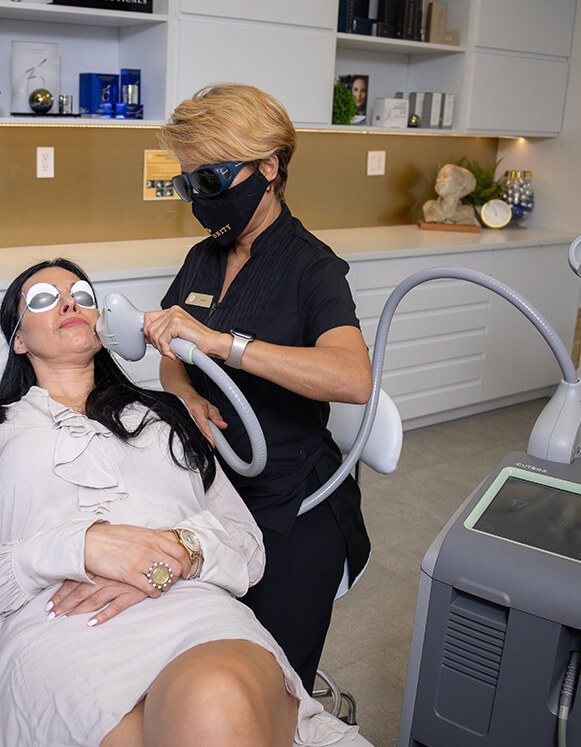 Titan utilizes a safe, infrared light to heat the dermis well below the skin's surface. This heating can cause immediate collagen contraction resulting in tighter skin. After the procedure, new collagen formation results in further tightening with the improvement of lax skin, folds and lines.
Frequently Asked Questions
Sometimes called the Non-Surgical Facelift, the Titan Laser Facial uses the Cutera xeo laser as a safe and effective way to produce immediate collagen contraction resulting in tighter, younger-looking skin.
Since the Titan procedure heats tissue under the skin's surface, clients of any skin type or age can be treated. The treatments are minimally invasive, so there is typically no downtime, though our specialists consult every person to ensure there are no issues with existing skin conditions or sensitive skin.
The Titan works very well to tighten skin on many areas of the face and body. The most common areas treated are the jawline, under the chin, and the abdomen.
With each Titan pulse, you will feel a brief heating sensation but nothing too uncomfortable.
Short-term immediate risks include prolonged redness at the area being treated, although this usually dissipates before you leave the office or within a couple of hours.
A single treatment is able to produce excellent results, though optimal results will be achieved after 2 to 3 sessions. At the time of your consultation, we will advise you on the number and frequency of treatments recommended for optimal skin tightening results.
The time will vary according to whether you treat the full face, just the neck, or both. The approximate treatment time is 60 minutes.
Immediately after the treatment(s), there may be some redness or swelling at the area being treated, which usually dissipates within the hour or by the end of the day but rarely persists for a few days. You are able to apply makeup or sunscreen immediately after the procedure and go back to your daily activities.
Some patients report feeling a heated sensation at the treatment area as if they had gotten a mild sunburn. Cool packs and ice are recommended in this instance, and the sensations should then subside.
The cost of these procedures is based on the area being treated. Prices could range from $500 to $1,275. Contact us to learn more and make an appointment.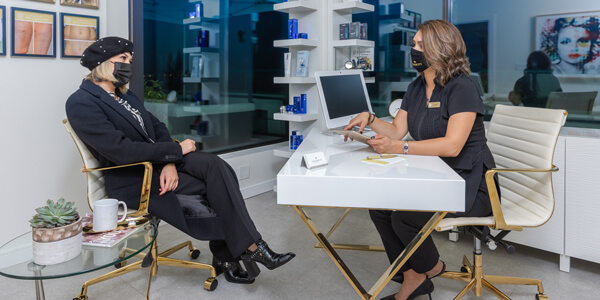 Our Team of highly trained technicians and doctors are available to provide services tailored to your needs.