Duration :30 min
Signature HydraFacial
Exfoliation – To remove dead skin cells.
Chemical Peel – Glycolic and salicylic acid peel.
Extraction – Painless suction to clean the pores.
Hydration Fusion – To nourish and Hydrate skin
Duration: 40 min
Clarifying HydraFacial
Exfoliation – to remove dead skin cells.
Chemical Peel – Glycolic and salicylic acid peel.
Extraction – Painless suction to clean the pores.
Hydration Fusion – To nourish and Hydrate skin
LED Light Therapy – Blue LED light for Acne and breakouts
Duration: 60 min
Deluxe HydraFacial
Lymphatic drainage –To increase lymphflow and released toxins
Exfoliation – To remove dead skin cells
Chemical Peel – Glycolic and salicylic acid peel
Extraction – Painless suction to clean the pores
Booster – Infuse Serums to improve pigmentation or Reduce lines
LED Light Therapy – Red or Blue LED light
Hydration Fusion – To nourish & Hydrate skin
Duration: 70 min
Platinum HydraFacial
Lymphatic drainage – To increase lymphflow and released toxins
Exfoliation – To remove dead skin cells
Chemical Peel – Glycolic and salicylic acid peel
Extraction – Painless suction to clean the pores
Booster – Infuse Growth factor serum for rejuvenation
LED Light Therapy – Red or Blue LED light
Hydration Fusion – To nourish and Hydrate skin
Client Reviews
Wow, what an amazing experience! My sister-in-law was the one who did all the research and found Celebrity Laser & Skin Care for our sister date before my big day. She booked us in for a hydrafacial and I can honestly say that this was one of the best hydrafacials I have ever had! Maryam and Olga helped us check in at the front when we came in. They were both so kind to us from the start. They were both so friendly and made us feel so comfortable from the moment we stepped in until the moment we left. While Olga did our hydrafacials, Maryam would check in periodically to ensure that we were comfortable and had everything we needed. We were given champagne as we were celebrating, as well as chocolate and water all throughout our appointment. They were even so kind as to make sure that the hydrafacial was not too abrasive to ensure that neither of us would have adverse reactions the next day. Olga was so passionate and we could tell that she honestly loved her job. She educated us on what she was doing throughout and always made an effort to us if we were feeling okay. She was so accommodating to us. If you are debating on whether or not to book an appointment with Celebrity and are reading this review, I would tell you to book that appointment. You will not be disappointed whatsoever! I would definitely recommend Celebrity Laser & Skin Care! It was truly an unforgettable experience.
Tried the hydra facial. Technician was great and explained the process step by step as she was working; staff in the office were friendly. Lots of redness on my face after the procedure, which was expected considering my skin is sensitive and very fair, but that mostly died down within a half hour and was gone within two hours, leaving my face looking refreshed and luminous. Today, the day after, my skin feels very soft and still has that lovely luminous quality. Will likely be back for another treatment in a couple of months.
Banefsheh was a delight! Really appreciated the expert advice on what I needed to make my skin better. Constant mask wearing has made my skin a mess and it looked immediately better after. I had the signature hydro facial in conjunction to the genesis laser treatment done. Thank you and I'll be back in two weeks.
I treated my sister in law and myself for a hydra facial the night before her big day. We were greeted by Maryam and Olga who were so welcoming. The clinic was super clean and chic. Olga provided us the service; she took her time and was very gentle! This was my first experience at a medical spa and my first experience with a hydra facial. I really recommend this place!
I think they really know what they are doing. They have a lot of options for all skin types and concerns. I got a hydra facial and it was completely worth it. Will be going back for more. Banafsheh was amazing!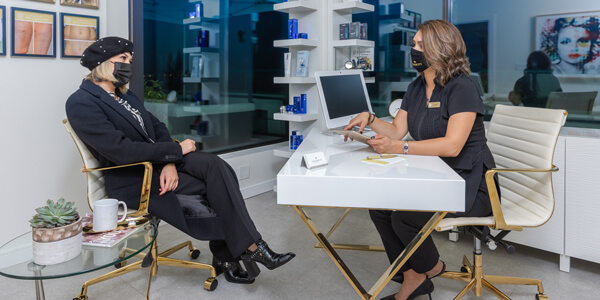 Our Team of highly trained technicians and doctors are available to provide services tailored to your needs.