Client Reviews
I have a very sensitive skin that requires a special treatment, so when it comes to choosing a treatment and clinic i do my thorough research. I found Celebrity Clinic online and had to come in for the consultation first to see if this is a right clinic for me. I was nicely surprised how friendly i was greeted at the door. Girls were very nice and helpful. My favorite two facial treatments are Hydra facial and Microdermabrasion. Both of the treatments were perfect for my skin type and i have not experienced any irritation afterwards. My skin was gently exfoliated and specifically picked products for me has given my skin a healthier look.
If you aren't sure which treatment to go for i would suggest you to request a consultation beforehand, so their specialists could pick the right products and treatments for you. I value their great customer service support and i have been loyal to them since my first visit.
Had a microdermabrasion and laser treatment and enjoyed my experience very clean salon!!!!
Beautiful, clean space. The technician was very friendly and knowledgeable. Answered all of my questions and talked me through the whole microdermabrasion and laser treatment. Made for a comfortable experience. Thanks!
Beautiful space! Very professional and care for their clients.
Banafsheh is so wonderful. She truly cares for her clients
I recently had a facial treatment their and definitely going back for more services. Absolutely loved it, the way they treat their clients and care for their needs. This is exactly what i was looking for and I'm so thrilled. Highly recommend them to my friends & family. Thank you girls, you are all awesome.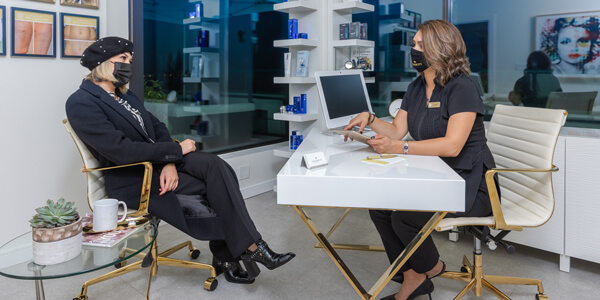 Our Team of highly trained technicians and doctors are available to provide services tailored to your needs.