Client Reviews
I've had the BEST laser hair removal service at this clinic. Not only are the staff so friendly and kind they are so efficient at doing hair removal. I have a low pain tolerance but the staff make the process as comfortable as possible. I'll definitely come back and book their other services as well.
Amazing staff ! I have had an awesome experience with these wonderful ladies and the hair removal treatment is better then I could have ever dreamed.
I am extremely impessed. The cleanliness, the customer service, everything was top notch. I wasn't talked into some package that I didn't want, but was given good information to make my own decision. I would recommend to anyone seeking laser hair removal.
Just got the best laser hair removal with my lovely❤️BANAFSHE❤️This place is extremely clean and the staff are super friendly, I would 100% recommend their services!! Love this place thank you so much celebrity laser & skin care for taking care of my skin needs !!!
I love Celebrity. A beautiful welcoming place. Well maintained. Very informative technicians. I have dark skin came in with hyperpigmentation after only two sessions of laser hair removal with NDYAG my skin is clear & smooth.
I had a wonderful experience with my laser hair removal. The treatment itself was very effective. The clinic is very clean and professional with such a nice and experienced staff. I will definitely return for more treatments.
Honestly very comfortable, friendly experience. Felt the staff was very welcoming and Olga was very comforting and tried her best to make the process as easy as possible. 10/10 would highly recommend and definitely be back for all my lazer hair removal needs
Trans/LGBT safe and friendly
I have been going to Celebrity since the beginning of June and I absolutely love it. The staff is extremely welcoming and knowledgeable. I have been getting laser hair removal treatments and it has been painless with results right away. Would highly recommend for laser hair removal or any sort of skin care aesthetics
This place has a very friendly and welcoming vibe, making is comfortable to be at and feel like your business is appreciated. The sun shines in beautifully through the south facing windows. Which makes the lovely little patio they have a perfect waiting area. They also have an indoor waiting area. It's very clean, tidy and has an elegant decor. The staff members are so nice and happily make sure your comfortable before and during your treatment. I have had 2 laser hair removal treatments so far, which were painless. Today, I was with Banafsheh. She was very gentle, thorough, knowledgeable and professional. I highly recommend this place and will definitely try some facials.
Very elegant salon with lovely friendly staff 🙂 My best experience with laser hair removal, Thanks to Farah joon.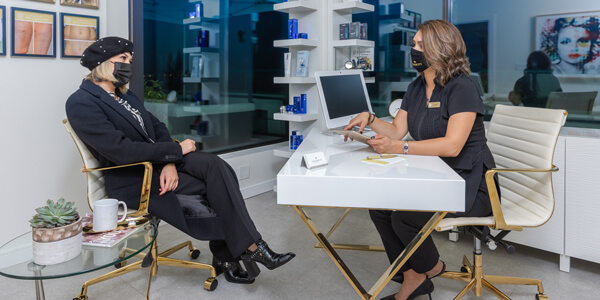 Our Team of highly trained technicians and doctors are available to provide services tailored to your needs.